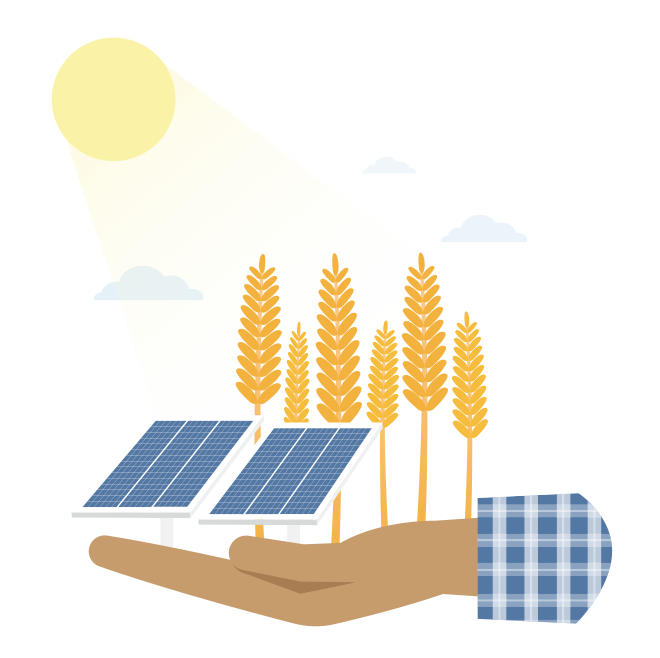 Strength through Experience and Foresight
As one of the most important banks in agricultural financing, we look back on 180 years of experience. We create new perspectives for a climate-neutral future and support farmers in the use of agricultural land in the areas of photosynthesis and photovoltaics. With our expertise in agricultural banking, we offer you sustainable solutions.
We offer you reliability and competence, a strong foundation for a successful, constructive and continuous business relationship. Because the challenges of your markets are constantly changing, industry knowledge and the highest level of consulting expertise are required. Our account managers know the business from their agricultural background and know about the specific needs of the agricultural sector. They know the cycles of the agricultural markets and are also experts in the wide range of financial services on offer. A good combination to provide you with future-oriented advice and financial support when aligning your operational plans and investments. Your personal agricultural customer advisor is on hand to assist you with all agricultural financing issues with valuable decision-making aids.
Intelligent products for the entire agribusiness
The framework conditions of agricultural enterprises have a direct influence on their business partners in the upstream and downstream economic sector. As a financial partner in agribusiness as well, we therefore see the big picture and can clearly recognise developments at an early stage. This is the best basis for tailored financing solutions. Please feel free to contact us.
Value creation potentials from field to power outlet
The field of renewable energies enables agricultural entrepreneurs to open up new fields of activity and to reduce CO2 emissions. Whether you are interested in building a biogas plant, a photovoltaic system or new energy-saving technologies - we will take care of the financing and support you in applying for suitable subsidies.
Olaf Oertzen

Corporate Customers | Head of Agricultural Customer Service North region

Christoph Benecke

Corporate Customers | Head of Agricultural Customer Service Middle region