NORD/LB Investor Relations
Our main figures (as at 31 March 2023):
Total risk exposure amount €40.4bn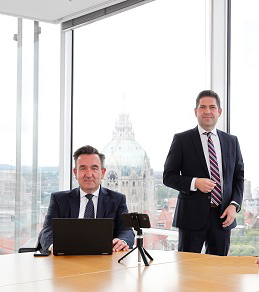 NORD/LB Investor Relations – our guiding principles
At NORD/LB, good communication and trust are among our basic principles. We want to communicate clearly, directly and promptly with our investors, analysts, customers and business partners at all times – whether in person or by telephone, email or video. Whether it's our figures, ratings, publications, such as our annual reports or presentations, or our business: we are always happy to help!
Discover NORD/LB in 60 seconds in our video:
Report archive
In our report archive, in addition to the NORD/LB Group Annual and Interim Reports, you will also find the Annual Reports of NORD/LB AöR, the Remuneration and Disclosure Reports (including the Main Features of the Capital Instruments) and the Annual Reports of Deutsche Hypothekenbank (2020 and older) and Bremer Landesbank (2017 and older). You will also find various sustainability publications here.
Thomas Breit

Head of Investor Relations

Jürgen Klebe

Investor Relations

Svenja Pohlmann

Investor Relations | Rating